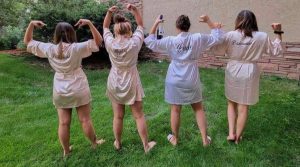 The Schedule for Brides & Their Party
When it comes to your big day glow, we thank you for trusting us, and it's not something we take lightly! We guarantee a no orange, long lasting, flawless and transfer free custom glow. To ensure your tan goes smoothly, and turns out amazing, please keep in mind and follow our bridal prep instructions.
If you are wanting to do a trial run, to ensure you like the shade against your features, as well as something white, we recommend doing it a few months before wedding. If you were going on a bachelorette party, bridal party, boudoir shoot, or hair/make up trial; that would be the perfect time to try out your tan as well!
At least 7 days before your tan appointment, we want to make sure we're exfoliating our entire body. To exfoliate its best to use a glove, dry brush or wash cloth to aid your skin in exfoliation, no sugar scrubs! The oil in sugar scrubs can block the tan from developing. Night before appointment, have one last exfoliating treatment, shave(if wanted), wash hair etc. Day of appointment rinse your body completely of all products from day before, and do not put any lotion, deodorant, makeup or perfume on your body. Wear loose clothing as well as sandals or slippers, if rain is in the forecast bring your umbrella, wear long clothing and closed toed shoes.
These are general prep instructions, please check your messages the week before appointment and be on the lookout for a more detailed, customized prep checklist.
All solutions are 4 hour rapids, meaning you must be in the shower 4 hours after leaving your appointment. Keeping your solution on longer will not make your tan darker or last longer; not rinsing when advised will cause the solution to over develop, casusing undesirable results.
Your tan will be fully developed 24 hours after your appointment, plan on continuing wearing loose clothing and avoid sweating.
The spray tan needs to be the cherry on top of all beauty services; please ensure all other beauty services are preformed at least a day before tan day. This includes but isn't limited too waxing, hair coloring, mani/pedi etc.
We recommend the tan to be preformed 2-3 days before wedding, this ensures we are transfer free on wedding day.
If you have 5+ people that want to be tanned, book a bestie block! Enjoy complimentary snacks and drinks, get your glow on and enjoy your time together before the big day. If you're interested, book with the button below!